US Sales of Herbal Supplements Increase by 7.7% in 2016
Introduction
Total sales of herbal dietary supplements in the United States increased by 7.7% in 2016 — the second highest rate of growth for these products in more than a decade. Consumers spent an estimated $7.452 billion on herbal supplements in 2016, an increase of approximately $530 million from 2015 (Table 1). This marks the 13th consecutive year of overall sales growth for herbal supplements and the first time that total US retail sales of these products have surpassed $7 billion.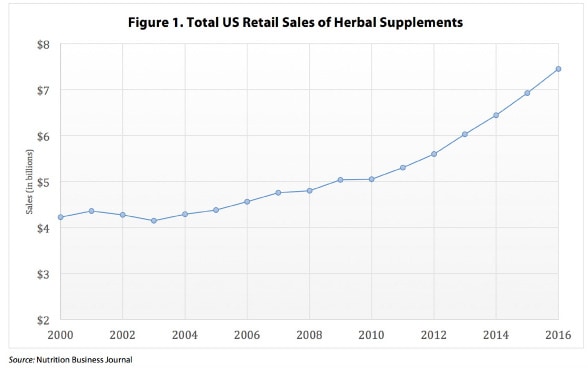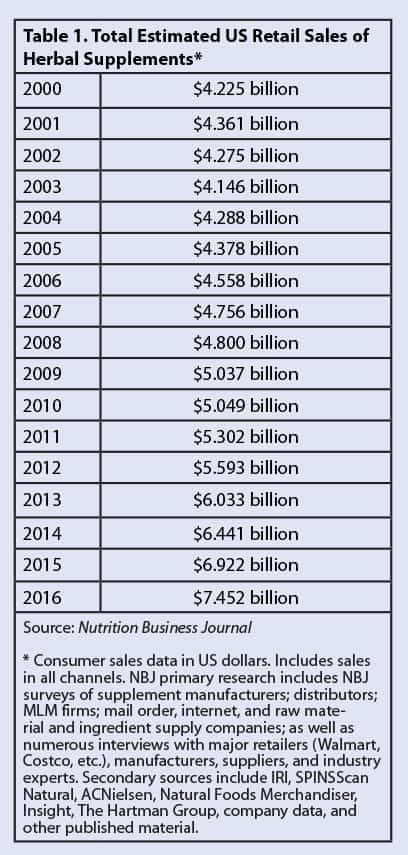 The information presented in this report is based on retail sales data provided by three organizations: the market research firms SPINS and IRI, both based in Chicago, Illinois, and Nutrition Business Journal (NBJ), part of the New Hope Network (now part of Informa), a natural products industry-focused media company based in Boulder, Colorado. SPINS collaborated with IRI to determine total retail sales of herbal dietary supplements in the mainstream multi-outlet retail channel. NBJ calculated total overall sales of herbal supplements as well as breakdowns by market channel and product type (single-herb vs. combination-herb supplements). The figures in this report reflect the most current estimates (as of July 2017) for herbal dietary supplement sales during the 52-week period that ended January 1, 2017.
In addition to the 7.7% increase in total sales of herbal supplements in 2016, retail sales increased for the eighth consecutive year in each of the three primary market channels, as defined by NBJ (Tables 2 and 3). Mass-market sales of herbal supplements in 2016 totaled an estimated $1.336 billion — an 11% increase over 2015 sales in this channel. Sales of herbal supplements in natural and health food retail stores increased by 6.4% from the previous year to a total of $2.506 billion in 2016. Direct-to-consumer sales of herbal supplements also increased substantially, with a total of $3.609 billion in sales in 2016, a 7.3% increase from 2015.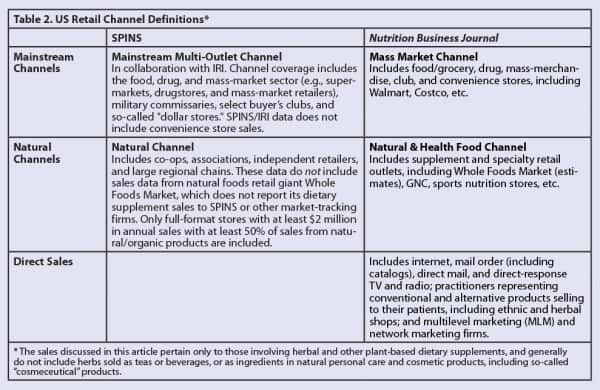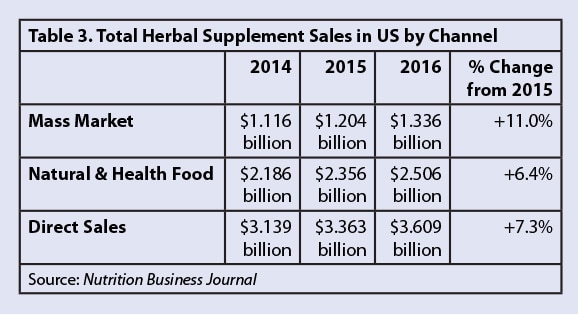 The SPINS/IRI sales data for individual herbs discussed in this report, and those listed in Tables 4 and 5, reflect sales of dietary supplements in which that herb is the primary ingredient. This includes only products that meet the legal definition of a dietary supplement, per the US Food and Drug Administration.1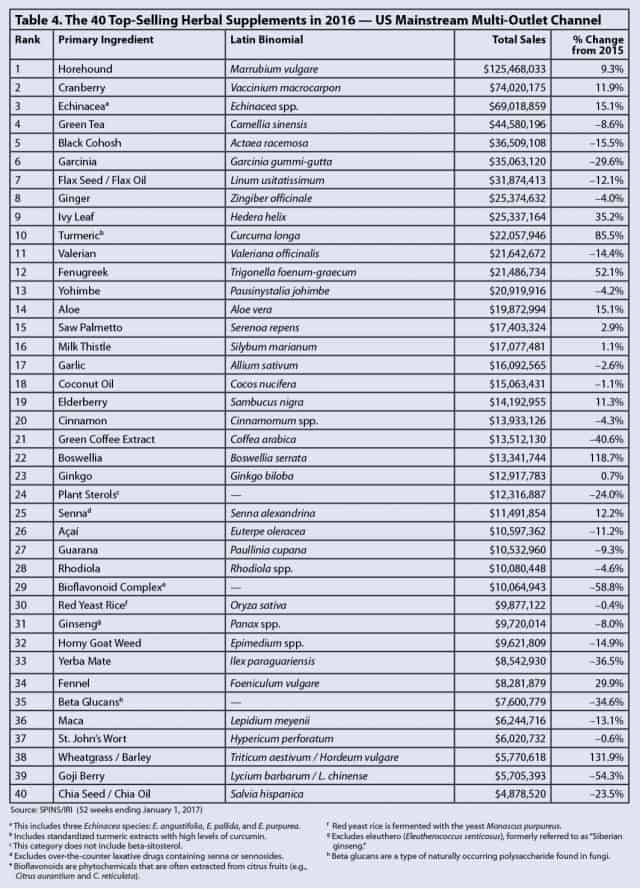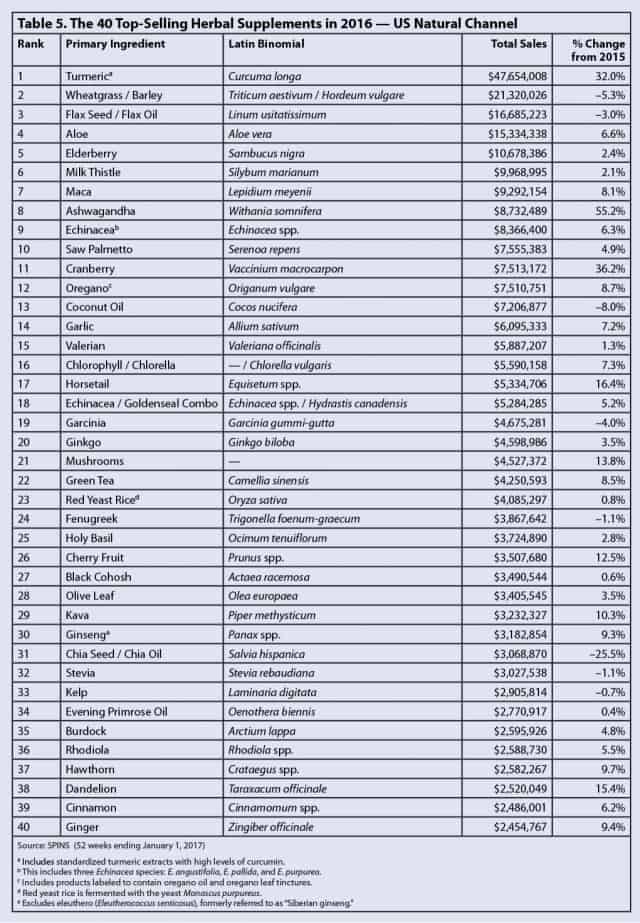 Mainstream Channel
SPINS, which does not include convenience store sales in its mainstream retail channel, determined total mainstream multi-outlet sales of herbal supplements to be approximately $943.9 million in 2016. Compared to NBJ's mass-market channel calculations, this represents a significantly less robust increase of 0.1% in mainstream herbal supplement sales in 2016.*
For the fourth consecutive year, horehound (Marrubium vulgare, Lamiaceae) was the top-selling herbal supplement in mainstream retail outlets in the United States. Sales of horehound supplements, which include cough drops and lozenges with horehound as the primary ingredient, totaled $125,468,033 in 2016. This is approximately $10.7 million, or 9.3%, more than was spent on these products in 2015.
A member of the mint family, horehound has been used as a medicine since ancient times. One of the first recorded uses of horehound dates back to the first century, when a Roman physician described using the juice of the herb to treat respiratory conditions.2 Human clinical trials of horehound for respiratory conditions are limited, but the herb's expectorant and cough-suppressant properties make it a useful addition to natural cough drops and lozenges.3
Wheatgrass (Triticum aestivum, Poaceae) and barley (Hordeum vulgare, Poaceae) experienced the strongest mainstream sales growth in 2016 with a 131.9% increase in sales from 2015. SPINS, which groups these two members of the grass family as a single item in its data set, reported total mainstream sales of $5,770,618 for these ingredients in 2016, making them the 38th top-selling herbal supplement in this channel.
Both barley and wheatgrass, the name commonly used for the young leaves, or cotyledons, of the wheat plant, contain a variety of vitamins, minerals, and phytochemicals (e.g., flavonoids and chlorophyll).4,5 Wheatgrass has been promoted for a wide range of potential health benefits, including detoxification, digestive and immune support, and improved energy.6Barley has been marketed for cardiovascular and digestive health, improved strength, and other benefits.7 The significant sales increase for these ingredients may reflect broader consumer trends toward whole-food supplements and products that promote general wellness.8 In its 2016 Annual Survey on Dietary Supplements, the Council for Responsible Nutrition (CRN), a natural products industry trade association, reported "overall health/wellness benefits" as the number one reason why consumers take dietary supplements.9
"Condition-specific supplements have long been the cornerstone of [health and beauty departments]…. But the new way forward isn't predicated on any single health condition," noted an October 2016 article from Natural Foods Merchandiser, a New Hope Network publication.8 "Rather, it focuses on supplements that support whole-body health."
The nutrient density of wheatgrass and barley has earned them a reputation as so-called "superfoods." These grasses are available in various forms, including as juices, capsules, and powders, as well as in combination products marketed as "supergreens" (a term that refers to various nutrient-rich leafy greens) that are used to boost the nutritional content of smoothies and other beverages. According to CRN's 2016 survey, "filling in nutrient gaps in the diet" was the third most common reason for consumers to take supplements.9 Suffering from "pill fatigue," health-conscious consumers have turned to these easy-to-consume sources of nutrition that can be incorporated into beverages. As such, wheatgrass and barley sales likely were impacted by the "green beverage" trend that took hold in 2016.10
Three other ingredients experienced mainstream sales increases of more than 50% in 2016: boswellia (Boswellia serrata, Burseraceae; +118.7%), turmeric (Curcuma longa, Zingiberaceae; +85.5%), and fenugreek (Trigonella foenum-graecum, Fabaceae; +52.1%). This growth is less pronounced than the sales increases seen in 2015, in which mainstream sales for each of these herbs more than doubled from 2014. (Sales of boswellia, for example, increased by a remarkable 673.6% from 2014 to 2015.) Boswellia, turmeric, and fenugreek have been used traditionally in Ayurveda, an ancient system of medicine in India that has become increasingly well-known to consumers in the West.11,12 The continued popularity of these ingredients in 2016 may be due in part to the growing consumer awareness of Ayurvedic herbs.13
Bioflavonoid complex, the 29th top-selling herbal supplement in the mainstream channel in 2016, experienced a 58.8% decrease in sales from 2015 — the largest sales decline of any of the top 40 herbs in the mainstream channel. Bioflavonoids are a group of phytochemicals that have been studied for a range of potential health benefits. These compounds have been shown to increase vitamin C absorption, and researchers have examined their ability to lower cholesterol, promote circulation, and reduce inflammation.14 In 2015, bioflavonoid complex was the 10th top-selling herbal supplement in this channel, and it experienced a 24.5% increase in mainstream sales from 2014 to 2015. The reasons for the sharp decline in sales in 2016 are unclear, but they may be related to consumer preferences for easily recognizable ingredients that promote general wellness.10 According to SPINS, some of the top-selling bioflavonoid products included in the 2016 data set were marketed for specific health conditions, which likely limited their general appeal.
With a 54.3% decline in sales from 2015 to 2016, goji berry (Lycium barbarum and L. chinense, Solanaceae) was the only other herbal ingredient with a decrease of more than 50% in mainstream sales during this period. Goji berry dropped from the 26th top-selling supplement in 2015 to the 39th in 2016. Goji berry, also known as Chinese wolfberry, is popularly regarded as a superfood. Goji berry's sales decline may be due in part to its steep price and the proliferation of new superfoods, as noted in HerbalGram's 2015 Herb Market Report.15 An article published in The Wall Street Journal in January 2016 summarized the declining interest in goji berry in its opening sentence, noting that "Some food trends fade faster than you can say 'goji berry.'"16 Fox News also mentioned the fruit in a December 2016 article titled "2016 food trends we're so over…."17
It appears that US consumers have continued to distance themselves from certain herbs with alleged weight-loss or metabolism-boosting benefits in 2016.18-21 This was reflected in mainstream sales declines for green coffee (Coffea arabica, Rubiaceae) extract (–40.6%), which had the third highest percent sales decrease from 2015; yerba mate (Ilex paraguariensis, Aquifoliaceae; –36.5%), which had the fourth highest percent sales decline; and garcinia (Garcinia gummi-gutta, Clusiaceae; –29.6%), which experienced the sixth highest percent sales decline. However, in 2016, boosting energy remained the second most common reason for taking supplements, according to CRN's annual survey.9 As an alternative to these ingredients, consumers may be turning to a different class of herbs: the adaptogens, which, as discussed later, have been shown to have many effects on the body, including an impact on energy levels.22
As in previous years, HerbalGram chose to exclude certain ingredients from SPINS and IRI's tally of the 40 top-selling herbal supplements in the US mainstream retail channel. As the only branded supplement on the list, Relora (InterHealth Nutraceuticals Inc.; Benicia, California), a proprietary blend of magnolia (Magnolia officinalis, Magnoliaceae) and phellodendron (Phellodendron amurense, Rutaceae) bark extracts, was not included in this year's report. Had it been included, Relora would have been the 38th top-selling supplement in the mainstream channel in 2016, despite its 46.7% decline in sales from 2015. Menthol, which would have ranked 15th in the 2016 mainstream channel, was the only other excluded ingredient. Although menthol can be naturally derived from mint (Mentha spp., Lamiaceae) species, much of the supply is now produced synthetically,23 and therefore is not considered by ABC to be an "herb."
Natural Channel
Retail sales of herbal supplements in the US natural channel totaled $382,955,108 in 2016, a 4.89% increase from 2015, according to estimates from SPINS. This is substantially less than NBJ's estimated total of $2.506 billion for its natural market channel, which also includes sales from independent retailers and other large retailers, such as Whole Foods Market. Sales in the natural channel tend to come from what marketers call "core shoppers," who are committed to a natural lifestyle. So-called "peripheral shoppers," who have less of a personal commitment to a natural-health philosophy, are more likely to purchase dietary supplements in the mainstream channel.
Turmeric was the top-selling herbal supplement in natural retail stores for the fourth consecutive year with sales of $47,654,008 in 2016. Sales of turmeric in natural retail stores increased by more than $11.5 million from 2015. This 32% increase in sales was the third highest percent sales increase of any of the 40 top-selling herbs in this channel.
The popularity of turmeric has been increasing steadily in recent years, but consumer interest in this yellow-gold spice spiked in 2016.24 Based on an analysis of search engine queries, Google classified turmeric as the "breakout star" of the functional food movement of the past five years. During that time, Google searches for turmeric increased by 300%.25
Ashwagandha (Withania somnifera, Solanaceae), the eighth top-selling herbal supplement in the natural channel, had the largest percent sales growth in 2016, with a 55.2% increase from 2015. Ashwagandha's popularity may be due in part to growing consumer awareness of two natural product trends: Ayurvedic herbs, as discussed previously, and adaptogens.8Natural channel shoppers, who tend to follow developments pertaining to natural ingredients more closely than peripheral shoppers, are perhaps more likely to have been familiar with these trends in 2016.
Adaptogenic herbs, sometimes referred to as "superherbs,"26 were listed among 2016's top health and wellness trends by many major media outlets.27,28 The term "adaptogen" first appeared in the scientific literature in the late 1950s, when it was loosely defined as any substance that promoted "non-specific resistance" to stress.29 (Subsequent publications have honed in on more specific physiological responses, but the term is still somewhat ambiguously defined.) In general, adaptogens are non-toxic substances that promote the normalization of bodily functions and support a healthy response and resistance to "noxious factors" or stressors. Several other ingredients with adaptogenic properties experienced natural channel sales growth in 2016, including mushrooms (+13.8%), "ginseng" (Panax spp., Araliaceae; +9.3%), rhodiola (Rhodiola spp., Crassulaceae; +5.5%), and holy basil (Ocimum tenuiflorum, Lamiaceae; +2.8%).
The top-selling herbal ingredients in the 2016 natural channel were the same as those that made the top-40 list in 2015, with one exception: dandelion (Taraxacum officinale, Asteraceae). Natural channel sales of dandelion in 2016 totaled $2,520,049, a 15.4% increase from 2015. (Dandelion, which came in as the 38th top-selling herb in 2016, displaced St. John's wort [Hypericum perforatum, Hypericaceae] from the list.) Although dandelion may be better known as a weed, preparations of the root30,31 have been used for millennia as a medicine for liver and kidney diseases, upset stomach, and heartburn, among other conditions.32 As an ingredient in herbal dietary supplements, dandelion is commonly found in teas marketed for detoxification, weight loss, digestive health, and stimulation of urine flow and appetite.33
Dandelion30 is one of several herbal ingredients with bitter properties to make the list of top-selling herbal ingredients in 2016. Other herbs include green tea (Camellia sinensis, Theaceae; +8.5%), aloe (Aloe vera, Xanthorrhoeaceae) +6.6%), echinacea (Echinacea spp., Asteraceae; +6.3%), burdock (Arctium lappa, Asteraceae; +4.8%), and milk thistle (Silybum marianum, Asteraceae; +2.1%).34 Bitterness as a flavor also ranked among the food and beverage trends of 2016. Herbs, including some of the previously discussed leafy greens, produce a wide variety of compounds that humans perceive as bitter-tasting. The consumption of certain bitter phytochemicals has been linked to a wide range of health benefits, but the compounds are perhaps most closely associated with digestion. The scientific explanation behind this relationship is well established. "As most naturally occurring bitter tasting stimuli are toxins at some concentration, the body responds to strong bitter tastes as if toxins are about to be ingested," explained the authors of a 2013 review article.35 As part of the body's first line of defense, the gastrointestinal system responds by attempting to limit the impact of the potential toxin.
Emerging research on the "gut-brain connection" and the importance of intestinal microbiota to overall health has likely fueled consumer interest in bitter and digestive health products.36 However, according to some sources, consumers are still buying digestive health products primarily to address specific issues, such as constipation and diarrhea. "While these reactive digestive issues are the main reason for using these types of products, there are many opportunities for category expansion based on a prevention platform," a 2016 "Mind of the Consumer" report by Natural Products INSIDER noted.37"Within this white space are conditions such as immunity, mental focus, weight loss, energy and joint issues — all of which can be linked back to digestive health."
Direct Sales
Direct sales of herbal supplements totaled $3.609 billion in 2016, a 7.3% increase from 2015 sales in this channel, according to NBJ. This is the highest percentage increase in direct sales of herbal supplements in more than a decade, according to previous HerbalGram herb market reports. Direct channel sales of herbal dietary supplements include multilevel marketing companies (also known as network marketing companies). This channel also encompasses mail- and internet-order sales companies, direct-response TV and radio sales, and sales by health practitioners.
According to a NutraIngredients-USA article from October 2016: "Network marketing continues to be a huge outlet for nutritional products, and direct selling companies with supplements in their portfolios are among the best performing of these companies."38
Single-Herb vs. Combination-Herb Supplements
Since 2011, sales growth of combination-herb supplements has outpaced that of single-herb supplements, and this trend continued in 2016. Combination-herb supplement sales in all channels grew 10.1% from 2015, and single-herb supplement sales increased by 6.1%. However, as noted in Table 6, total sales of single-herb supplements were higher overall than sales of combination-herb supplements in 2016, according to NBJ.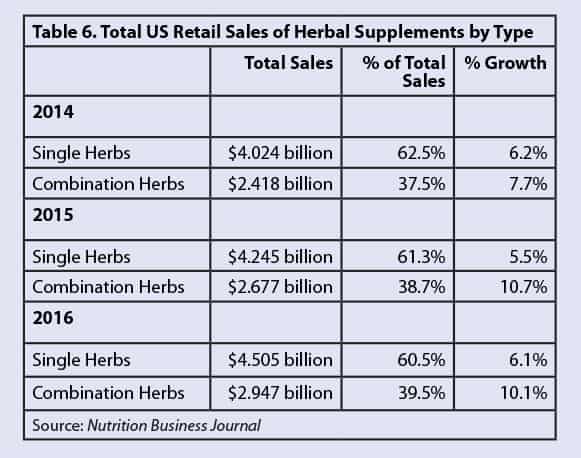 Conclusion
2016 marked the 13th consecutive year of overall sales growth for herbal supplements and the eighth year of increased sales in each of the three market channels. This suggests that consumers — from casual shoppers in mainstream retail outlets to core consumers of natural products — are continuing to turn to plant- and fungi-based options for their health care and self-care.
The shifts in sales of certain ingredients in 2016 point to the evolving preferences and priorities of consumers. Although shoppers are still buying supplements to address specific health concerns, increased sales for herbal ingredients marketed for overall wellness and vitality suggest that some are taking a more proactive, holistic approach to wellness. In particular, sales of adaptogenic herbs, a category of plants with broad and appealing effects, seem to have benefited from this trend. As scientific research continues to explore the connection between the digestive system and overall health, the rise of bitter herbs and other products marketed for gastrointestinal health may also be a component of this "systemic wellness" trend.
You may also download the PDF form of US Sales of Herbal Supplements Increase by 7.7% in 2016 here.
Source: The annual HerbalGram Herb Market Report